ATHLETE INTELLIGENCE TEAM STARTER PACK
TEAM STARTER PACK - 25 ATHLETE BUNDLE
Athlete Intelligence is offering its revolutionizing Head-Impact Monitoring and Performance Tracking Platform at one low yearly price.
The Athlete Intelligence 25-Athlete Starter Pack gives teams the ability to track and analyze the count, location, and severity of each impact sustained during practices and games. The starter pack includes 25 CUE Sport Sensors™, a bulk charging board, and all automated reporting, giving your staff the information to make data driven decisions.
Complete the form and an Athlete Intelligence representative will reach out shortly to answer any questions you have about the Head-Impact Monitoring Starter Pack and next steps to tracking head-impacts for your athletes.
* Pricing is per year on a required 3-year contract
* School districts who qualify for our Insurance Subsidy Program receive additional discount
TURN YOUR HELMETS INTO SMART HELMETS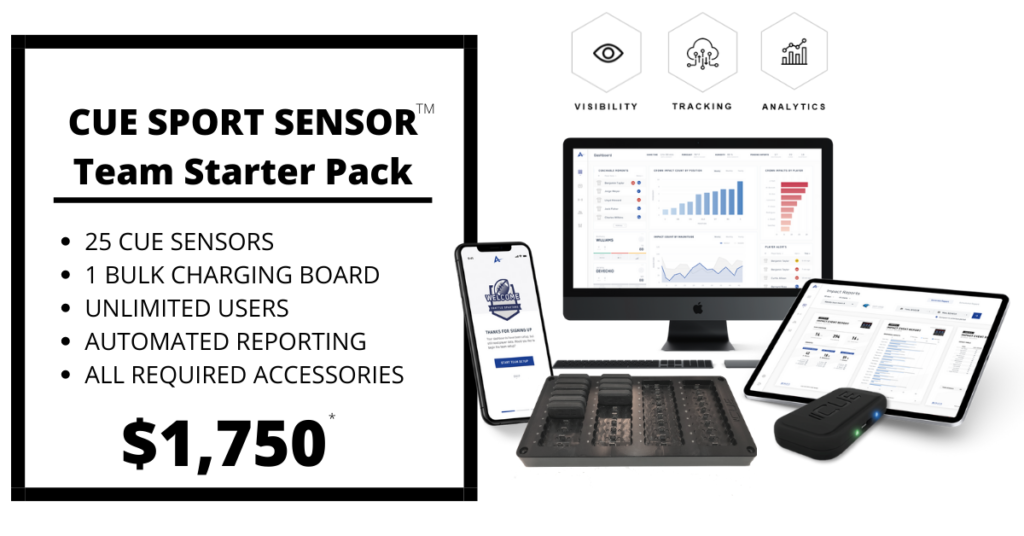 When paired with our Vector Mouthguard or Cue Sport Sensor, the Athlete Intelligence Platform delivers automated reporting helping staff drive decision making to improve athlete technique, manage head-impact exposure, and reduce the risk of injury.
Let Athlete Intelligence be your source for measuring and managing the head-impacts sustained by athletes. Whether on the field during play, or post-game and practice, Athlete Intelligence offers flexible programs to access your data, keeping distractions low.
Join the Athlete Intelligence Team today and lets revolutionize sports together. Data Wins.
Schedule a Demo
In Every Athlete There is Pure Potential
In our information booklet you'll gain instant access to how you can improve technique, manage head-impacts, and reduce the risk of injury for your athletes.
What you will find in out Athlete Intelligence Info Booklet:
All the information about our platform and sensors in one place
Direct link to our Athlete Intelligence video, for easy viewing and sharing
Pricing per athlete for both our VECTOR MouthGuard and CUE Sport Sensor
How the power of data can help identify opportunities of improvement for athletes
Download Our Info Booklet