Advisory Board Member Laurent Duvernay-Tardif Moving From the O-Line to the Front Line of COVID-19
After 3 months following a Super Bowl victory with the Kansas City Chiefs, starting Right Guard Laurent Duvernay-Tardif swaps his jersey for his scrubs.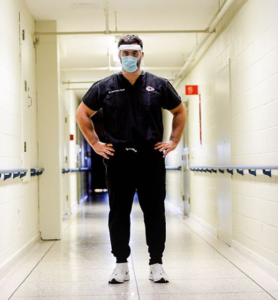 Duverney-Tardif, 29, became the first medical doctor to play in the NFL after receiving his doctorate in medicine from Canada's McGill University in 2018.  After coming off his victory in the Super Bowl, Laurent spends most of his time putting his medical training to good use.
In a recent Sports Illustrated interview, Duvernay-Tardif mentioned he "had to check with the Chiefs from a contract standpoint. They've been amazing.  They we're product of the fact I wanted to go help. They said they would support me."
Duvernay-Tardif also added, "There was one positive case for COVID-19 at the facility." However, the virus had not spread to other patients.
As part of his role on the NFLPA's task force, he joins experts from across the country to help determine what scenarios are safest when determining what life back on the field looks like for all teams and athletes.
Laurent continues to explain the differences between playing in the Super Bowl in front of over 100 Million people is much different than being on the front line of a pandemic.  "You've gotta really take this seriously when it comes to washing your hands, not touching anything. I know it sounds silly; it's simple stuff. But when you're in a long-term care facility where there are cases, you know for sure you're going to be exposed if you don't take those appropriate measures. You know there's risk involved."
For the full article originally posted by Sports Illustrated, read more here.
__
About Laurent Duvernay-Tardif
Laurent Duvernay-Tardif is a right guard for the Kansas City Chiefs of the National Football League and a physician.  He is the first medical student to graduate while also playing the NFL.  Laurent Divernay-Tardif serves on the NFLPA's task force and serves as an Advisory Board Member of Athlete Intelligence.
About Athlete Intelligence:
Athlete Intelligence is a leading sports technology and data analytics company located in Kirkland, Washington.  Through a variety of wearable sensor options, Athlete Intelligence provides teams the ability to track the location, count, and severity of each impact allowing teams to use the data to improve athlete technique, manage head-impact exposure, and reduce the risk of injury.  For more information on Athlete Intelligence, please visit:  www.AthleteIntelligence.com.