Andrew Golden of Athlete Intelligence sits down With Coach Stone to Discuss Head-Impact Monitoring and Value of Data Driven Decisions
How Taking a Data Driven Approach to Head Safety Can Help You Play Better
Andrew Golden of Athlete Intelligence sits down and joins Coach Anthony Stone on the Coach Stone Podcast to discuss how Athlete Intelligence is setting the standard of safety and performance through head-impact monitoring and performance tracking.
In the below podcast interview, Andrew discusses at length the value of head-impact monitoring and how teams can use the data to improve athlete technique, manage head-impact exposure, and reduce the risk of injury for athletes.  You'll learn more about the Vector MouthGuard, CUE Sport Sensor, and the automated reporting platform.
Listen to the full Podcast Episode Here:
About Coach Anthony Stone:
Anthony Stone is a Physical Education teacher at Gregory Elementary School and Quarterbacks Coach at Boylan High School in Rockford, Ill. He is also the Defensive Coordinator and Assistant Head Coach for the 2017 Women's Australian National Outback Team & writes blogs for "Hudl" & "Firstdown Playbook."
In July 2016, he was named to the Hudl 100 list. He has presented at IAPHERD, the top physical education convention in Illinois, on how to get students moving with his Games Galore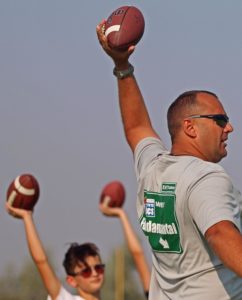 presentations. He has also presented at the Chicago Glazier Clinics on quarterbacks & special teams. He was the Defensive Coordinator for the 2010 U.S. Women's National Tackle Football Team, winners of the IFAF Women's World Championship in which Team USA did not allow a point in three games with an overall score of 201-0.
The rest of his coaching experience involves coaching in the CIFL and the IWFL Leagues as well as Beloit College (Linebackers/Special Teams Coordinator) and Rockford University (Quarterbacks/Wide Receivers).  As well as coaching football at the youth, middle school and high school level.  For more information on Coach Stone, please visit: www.coachstonefootball.com
About Athlete Intelligence:
Athlete Intelligence is a leading sports technology and data analytics company located in Kirkland, Washington.  Through a variety of wearable sensor options, Athlete Intelligence provides teams the ability to track the location, count, and severity of each impact allowing teams to use the data to improve athlete technique, manage head-impact exposure, and reduce the risk of injury.  For more information on Athlete Intelligence, please visit:  www.AthleteIntelligence.com
_
Want to learn more about Athlete Intelligence?  Complete the below to download the Athlete Intelligence Information booklet and learn everything there is to know about our Head Impact Monitoring Solutions