Athlete Intelligence And Insurance Companies Take A Step Towards Safer Student-Athletes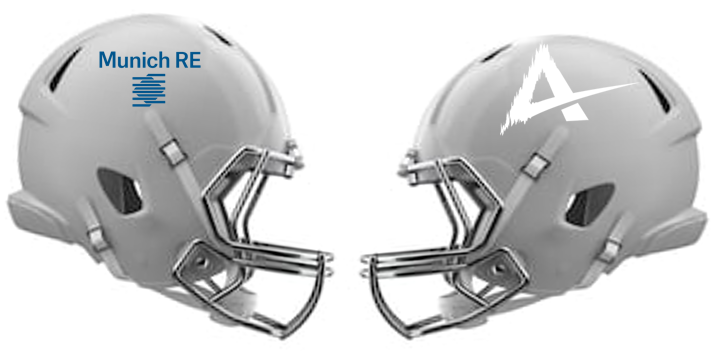 Munich RE Insurance Teams up with Athlete Intelligence to Offer Insurance Subsidy Discount to Promote Head-Health Safety in High School Sports.
Athlete Intelligence, along with Munich Reinsurance America, Inc., one of the industry's leading re-insurers, have teamed up in a targeted approach to help high school programs improve the head-safety and performance of student-athletes in contact and collision sports.  
Athlete Intelligence is a leading head impact monitoring and performance tracking platform that uses wearable technology to track the location, quantity, and severity of each head-impact sustained during a game or practice.  The data is then transmitted either in real-time, or downloaded after an event where automated reports are sent to the Athletic Training and Coaching staff.  These reports help staff members identify performance trends and often highlight new opportunities where technique adjustments can be made.
"The ability to collect data that informs the coaches on what to teach and reteach to the team or individuals is exceptional," noted Bryan Streleski, Director of Athletics for the Bethel School District. "To collect data during practice and use that information is a huge factor in player safety."
Head-Impact Monitoring is still an emerging technology for some sports teams, but it is the value through actionable reporting which helps set Athlete Intelligence as a product of choice for many teams.
"Our technology captures the invisible data around every player and transmits it to the sideline," said Jesse Harper, CEO of Athlete Intelligence. "The information empowers players, parents and coaches with the knowledge they need to help improve technique and reduce the risk of injuries on the field."
"Athlete Intelligence and its cutting edge technology is a good fit for our clients–school districts and municipalities–as they work towards solutions to address traumatic brain injury among all high school athletes," noted Brian Viscusi, Head of Client Underwriting for Alternative Market, Specialty Insurance, Munich Reinsurance America, Inc. 
Athlete Intelligence offers various product options depending on sport and features or functions.  The ability to offer options has allowed Athlete Intelligence to be a resource of choice for many youth, high school, and top NCAA level programs.
"Working with Athlete Intelligence allowed us to show our players the importance of keeping their heads up and out of contact. When they have a visual of where contact with their helmet happens, it gives our staff another tool to stress safety on the field," noted Spanaway Lake High School Coach John Robak.
Want to see if your High School Instantly Qualifies for the Athlete Intelligence and Munich RE Insurance Head Impact Monitoring Subsidy Discount?
__
About Munich Reinsurance America, Inc.
Munich Reinsurance America, Inc. is one of the largest reinsurers in the United States. We provide reinsurance coverages, specialty reinsurance, and risk management solutions to commercial and personal lines insurance carriers, agents and brokers, program administrators, and managing general agents. Our admitted and non-admitted insurance company affiliates also offer specialty insurance products. We provide insurance carriers with white label products to help protect against the devastating effects of natural catastrophes and emerging risks, while our Innovation Lab offers client solutions in a rapidly evolving technology risk landscape. We believe that by looking out for our clients' best interests with innovative risk solutions we can help build more resilient communities and close insurance gaps. We serve our clients from our Princeton, New Jersey campus and regional offices throughout the United States. The company's Alternative Market business unit, part of its Specialty Markets Division, is celebrating its 30th anniversary in the public entity space in 2018. For more information visit www.munichreamerica.com.
About Athlete Intelligence
Athlete Intelligence is a leading sports technology and data analytics company located in Kirkland, Washington.  Through a variety of wearable sensor options, Athlete Intelligence provides teams the ability to track the location, count, and severity of each impact allowing teams to use the data to improve athlete technique, manage head-impact exposure, and reduce the risk of injury.  For more information on Athlete Intelligence, please visit:  www.AthleteIntelligence.com.