Athlete Intelligence Board Member Recognized as 2020 Sports Person of the Year

Laurent Duvernay-Tardif, Athlete Intelligence Board Member, Super Bowl Champion, and Medical Professional, Recognized as Sports Illustrated Sports Person of the Year.
2020 is a year we will never forget.  In times like these, we can turn inward feeling hopeless beyond our control, or work to reshape the world we live in.  While some choose the inward path, these five athletes took the road less traveled; the more difficult route.  And at times with nothing but darkness in sight, the leadership and optimism shown by the athletes helped bring a glimpse of light to our darkest year.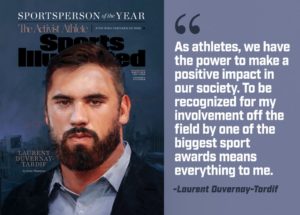 So this year, Sports Illustrated selected five athletes who helped define the word champion both on and off the field.  These men and women defined the term leadership and fought for those who could no longer fight.  Patrick Mahomes used his platform as the NFL's transcendent star to push the league to recognize the Black Lives Matter movement and player's right to protest.  Naomi Osaka found her voice in the fight against social injustice.  Breanna Stewart spoke loudly against racism and for women's equality.  LeBron James worked tirelessly to end voter suppression and that all who could vote had access to polls.  And Laurent Duvernay-Tardif who left the Offensive Line to work the front line of the COVID-19 pandemic.
The issues and challenges we experience in 2020 will still be there in 2021, but with the help of these five remarkable athletes, they set examples of how to face and one day fix, what lies ahead.  With Purpose.  With Passion.  And with Optimism, no matter the obstacle, better days are ahead.
In 2020, Laurent opted out of the 2020 NFL season to work on the front line of the pandemic.  His actions show the level of care he has for others, and what it means to put those in need in front of himself.  We need more people like Laurent in this world.   His choice was a difficult one, but one that should be admired.  And in his own words, "The Work isn't Over."
Did you catch our fireside chat with Laurent Duvernay-Tardif?  Watch it Here:  Click Here to View.
Laurent has been a member of the Athlete Intelligence Board of Advisors since 2015.  His perspective as an athlete and doctor of medicine brings a unique viewpoint into the world of athlete safety and performance through actionable analytics.  His thought leadership has helped shape the way Athlete Intelligence builds solutions for Coaches, Athletic Trainers, and for student-athletes.
Want to Learn More about Athlete Intelligence?  View our Information Booklet below: