Athlete Intelligence Launches Head Health Initiative to Help Teams Take Data Driven Approach to Safety
Athlete Intelligence Offering FREE 1 Year Subscriptions to Select Youth and High School Teams to Promote Head Health Safety
Athlete Intelligence, a leading Head Impact Monitoring and Performance Tracking solution for Team Sports, is announcing the launch of the Head Health Initiative to help Youth and High School Sports Teams take a data driven approach to improving athlete performance and head-safety.  As part of the Head Health Initiative, Youth and High School Sports Teams can qualify for a FREE 1 Yr subscription of the Athlete Intelligence system.  Teams will be selected each month.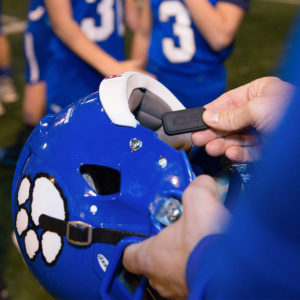 Since commercializing in 2015, Athlete Intelligence has been Head Impact Monitoring system of choice for over 180 sports teams and supporting over 6,000 student-athletes.  The Athlete Intelligence Head Impact Monitoring System allows teams to track the location, total quantity, and severity of head impacts sustained during games or practice.  Coaches and Athletic Trainers use the data to identify where technique adjustments can be made based on head-impact patterns and high impact workloads, along with being able to closely monitor those athletes taking the hardest hits to the head.
Our goal with the Head Health Initiative is to help under resourced programs adopt our data driven approach to improving athlete safety and performance," says Andrew Golden, Director of Business Operations at Athlete Intelligence. "Having access to head impact data is a huge missing resource in every teams attempt to manage head contact exposure and ensure athletes are using proper technique.  This initiative allows us to give back to programs and help set new safety standards."
Selected teams will be provided 25 CUE Sport Sensors to be used for their high contact positions along with all required accessories to run and manage the system.  The CUE Sport Sensor will clip inside to a helmet and provide time-stamped impact data from all games and practices.  Data is then downloaded from a mobile phone where Team Users will have access to all auto-e-mailed and dashboard reports.

HOW TO APPLY FOR THE HEAD HEALTH INITIATIVE PROGRAM:
Submit your Team Information below,

or

visit the official Head Health Initiative Page to submit your Team Information by CLICKING HERE.
Include your Name, Contact Information, and Team Details.
Tell us why your Team should be selected and how you promote head-safety for student-athletes.