Athlete Intelligence Presents The 2023 National Athletic Trainer Appreciation Award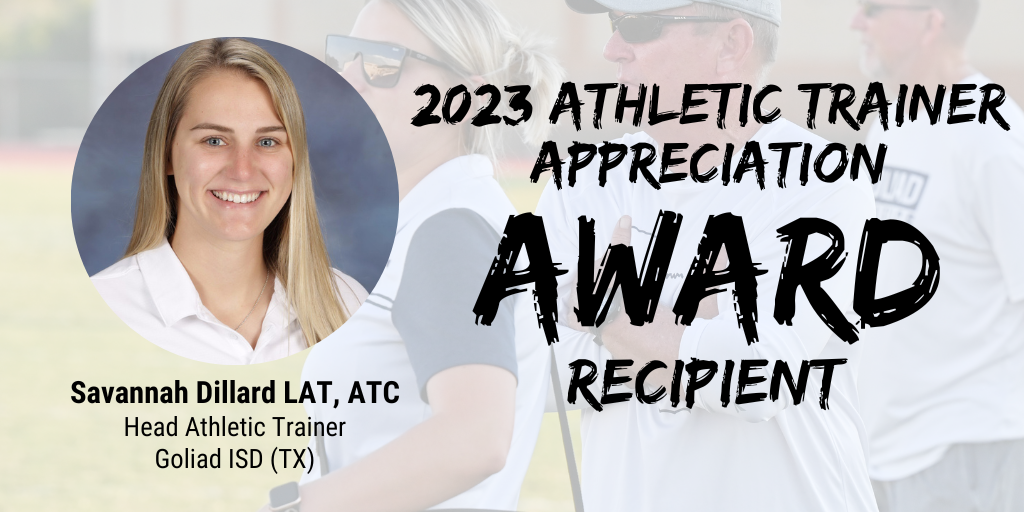 Savannah Dillard, Head Athletic Trainer for Goliad ISD (TX) Selected as the 2023 Athletic Trainer Appreciation Award Recipient
As an active athlete in a small town, becoming an athletic trainer was a non-existent thought in Savannah's mind growing up. In fact, as an athlete, Savannah rarely had access to an athletic trainer and never really understood what an athletic trainer did.
It wasn't until her senior year of high school basketball after landing wrong on her ankle that she would meet an athletic trainer.  That injury changed everything for her and what she would learn about being an athletic trainer. It was at that moment she knew she found her calling to become an athletic trainer.
"My philosophy as an athletic trainer entails improving the quality of life through prevention, recognition, management, and reconditioning of injuries to physically active individuals," said Savannah Dillard.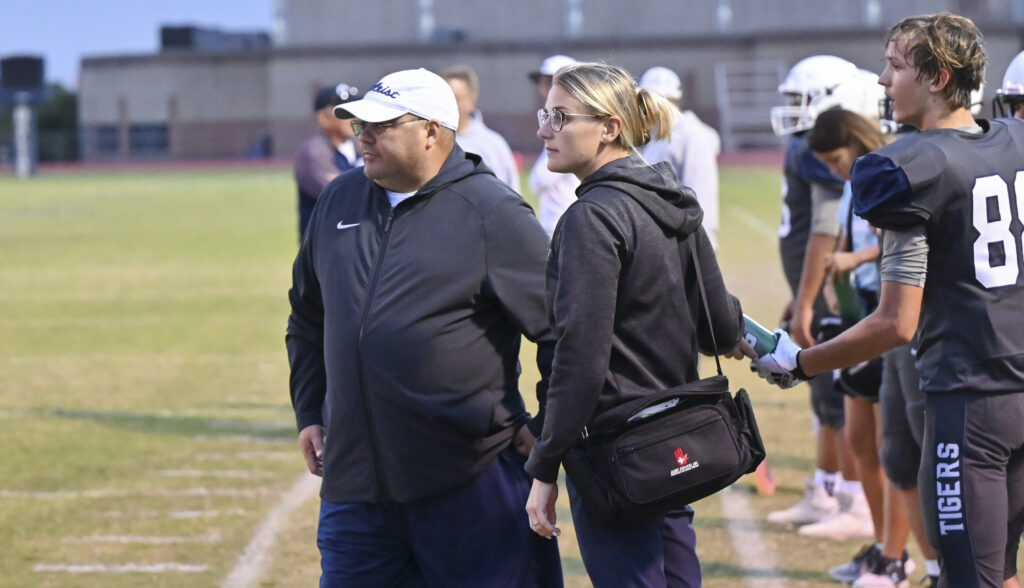 Being the Athletic Trainer at Goliad High School gives Savannah the opportunity to serve, protect, and form strong relationships with her student-athletes. One of the best feelings of being an Athletic Trainer is watching her athletes return to the sport they love after overcoming an injury.  Savannah makes it a point to be with her athletes every step of the way through their highs, lows, and everything in between.
When Savannah found out that she was nominated by the Goliad High School Athletic Director, Kevin Salazar, she was extremely surprised. Mr. Salazar instructed her that she would be receiving a call that she needed to answer. This left Savannah feeling anxious and puzzled.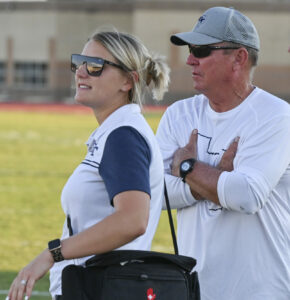 "Savannah Dillard is one of the hardest working people within our program." Said Goliad High School Athletic Director Kevin Salazar. "She has a heart for athletes and a passion for athletic training. She is one of the first to the facility and last to leave, ensuring that all athletes and programs are taken care of. She has a great relationship with our athletes, parents, and community and is greatly appreciated within our district!" Salazar added.
When you hear the coaches and athletic staff talk about Savannah, it is clear why she was both nominated and selected as the 2023 Athletic Trainer Appreciation Award Recipient.
As the 2023 National Athletic Trainer Award Recipient, Savannah will be receiving an Athlete Intelligence subscription for her football team.
"To be the 2023 winner of the Athletic Trainer Appreciation Award means so much to me!" said Savannah. "This is not only going to benefit me but also our football team.  I know they will be just as grateful for this opportunity." Dillard added
We would also like to give recognition to many of those nominated in the contest:
Dennis Fyke – Lamar High School
Gio Patino – Floresville High School
Jamal Bechri – Canyon View High School
JD Burgess – Canyon View High School
Paige Hatfield – Central A&M High School
Camille Wilkerson – Immaculata-La Salle High School
Joel Acosta – Immaculata-La Salle High School
Matt Blimline – Legacy Christian Academy
Anita Hrdicka – Legacy Christian Academy
Jason Day – Struthers City Schools
Melissa Hutzell – Vista High School
Jen Mag – Otsego High School
Heidi Johnson-Schmidt – Great Oak High School
Arielle Baker – Warren Local High School
Arianne Givens – Lawndale High School
Lauren McMillon- C.H. Flowers High School
Meghan Crowe – Haldane High School
Michael Moran – Chaminade High School
Alicia Rider – Diamond Hill-Jarvis High School
Katie Nabb – Treutlen High School
Meghan McMahon – Bergen Tech
Jennifer Dale – Bergen Tech
About Athlete Intelligence
The Athlete Intelligence system is an innovative way of tracking head impacts, which can help reduce the risk of injury. The system allows for real-time alerts and helps improve athlete performance. The data generated by the system helps identify patterns in head impacts and shows the effectiveness of proper tackling techniques. Reports and analytics provide coaches with valuable information on their athletes, allowing them to make informed decisions and adjust training accordingly.