Head Impact Monitoring Case Study: Spanaway Lake High School Football And Munich Re Insurance

CASE STUDY:  Athlete Intelligence and Munich RE Show Head Impact Monitoring Solutions Help Football Teams Improve Performance and Safety
Over 1 million high school students played football in the 2017-18 season, according to an annual participation survey by the National Federation of State High School Associations (NFHS). With the increased awareness over the devastating impacts of concussions, participation in school football has continued to decline.
Not surprisingly, claims against sports teams, leagues, and schools for injuries allegedly resulting from concussions are on the rise as well. The cost of defending these suits could prove very high, raising a number of unsettled insurance coverage issues.
Providing concussion insurance is one step schools are taking to show a commitment to promoting safe sports. Without strong management programs, schools may face the prospect of virtually no insurance coverage for football-related concussion risks—which could endanger all but the wealthiest programs, experts say.
Expected policy exclusions could also leave college and high school teams without critical coverage if former players claim long-lasting injuries from concussions suffered while they were players. Given the issue's long-tail nature, insurers may have to worry about policies they have written in the past, even if they provide exclusions in their policies going forward.
This case study provides an example of how insurance companies can work for the 'moral good' of the communities they serve.
Located in Washington State, Spanaway Lake High School is a public school for grade levels 9 through 12. With a wide range of youth sports programs including football, soccer, volleyball, and lacrosse, it is one of four high schools in the Bethel School District.
Coach John Robak wanted to ensure that the most important assets of his student football athletes— their brains—were better protected during games from concussions.
Working with District AD Bryan Stre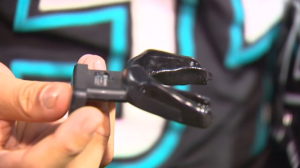 leski, they determined that the VECTOR MouthGuard system from Athlete Intelligence would be the optimal device for the Spanaway Lake Sentinels to use to measure impacts.
However, Robak and Streleski had a dilemma. Purchasing a VECTOR MouthGuard for every player on the team was more than what the Sentinels' budget allowed. How would Spanaway Lake High School afford to buy these much-needed concussion sensors—tools that had the potential to benefit these student athletes for years and even decades to come?
Enter Clear Risk Solutions—an insurer with over a quarter of a century of experience supporting non- profits and public institutions who seek to control their insurance costs while reducing their exposure to risk. Assisting schools like Spanaway Lake to get the life-preserving protective gear they need is what Clear Risk solutions does best.
Over the course of their ten year relationship, Clear Risk, Apex and Munich Re, have focused on improving loss control and safety measures for their public entity clients. Together, their commitment to innovation provided the opportunity to research a number of potential solutions to limiting or better identifying brain injuries, especially among high school athletes. This research led Brian Viscusi, the head of Munich Re, US' Public Entity Group, to set up a meeting with Athlete Intelligence in the summer of 2017.
"We knew immediately that the Athlete Intelligence team would be a good fit for our clients as they are working on solutions to address TBI among all high school athletes," noted Viscusi. "Additionally, we knew we had strong partners at Brown & Brown to implement a pilot program to get additional feedback during the 2017 high school football season."
Munich Re immediately brought together Clear Risk and Apex to discuss the benefits of working with Athlete Intelligence, and the timing perfectly aligned with Clear Risk's efforts with Spanaway Lake. All agreed to study the data around head impacts provided by Athlete Intelligence's VECTOR MouthGuard. Together, they underwrote the entire VECTOR MouthGuard bill for the 95 student athletes of the Spanaway Lake football team.
Thanks to efforts of Brown & Brown's Clear Risk Solutions, Apex Insurance Services and Munich Re US, the Spanaway Lake Sentinels now had VECTOR MouthGuards for all their players—giving these talented kids the crucial advantage they needed both on the field and in life.
After hearing back from the football programs that were sponsored with VECTOR MouthGuard, Munich Re, US has agreed to sponsor additional pilot programs in 2018 including hockey and lacrosse with the Cue Sport Sensor to gather impact data from other sports teams to mitigate risk of injury across multiple sports. Clear Risk, Apex and Munich Re, US anticipate offering discounted pricing on Athlete Intelligence's products to their clients pending the successful conclusion of these pilot programs.
The feedback on the experience and benefits of working with Athlete Intelligence had a positive effect on Spanaway Lake and the larger sports community. The Spanaway Lake High School story is an example of what can happen when the right insurance team is connected with the right client—benefiting the players, the coaches, the parents and the communities they serve.
The data provided by the VECTOR MouthGuard can help improve performance in a number of ways. The first is by providing data on each of the hits every player on the team experienced. The Athlete Intelligence system also offers the ability for coaches to analyze data post-game.
"Working with Athlete Intelligence allowed us to show our players the importance of keeping their heads up and out of contact. When they have a visual of where contact with their helmet happens, it gives our staff another tool to stress safety on the field," noted Robak.
Complete the following to view the full Case Study