I1 Biometrics Introduces The Athlete Intelligence Brand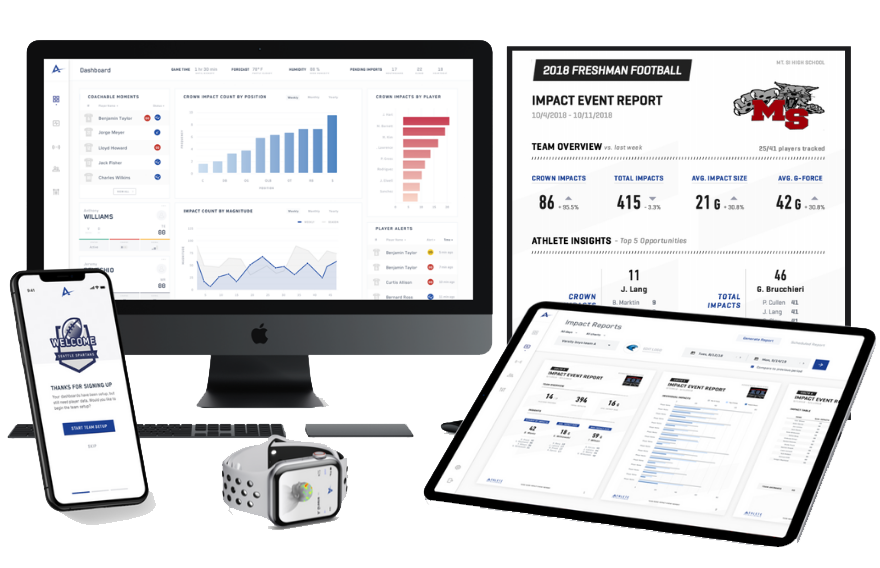 I1 Biometrics Introduces its New Brand, Athlete Intelligence as a Leading Solution For Sports Safety Analytics
The year 2017 is a big year for i1 Biometrics®. We're raising the bar in the athlete safety and performance technology industry with the introduction of our automated analytics platform, Athlete Intelligence™. The Athlete Intelligence Platform includes wearable devices and a fully automated reporting dashboard to make sure every team has access to actionable data analytics to improve athlete safety and performance.
WHERE WE'VE BEEN:
In 2013 i1 Biometrics set out with a mission to make sports safer through head impact monitoring. The focus was on developing a system that measures head impacts so teams could use the actionable data to improve athlete technique, manage head impact exposure, and reduce the risk of injury.  With our first product, the Vector MouthGuard®, we developed a smart impact-sensing mouth guard to relay information in real-time to Coaches and Athletic Trainers.  The VECTOR MouthGuard wirelessly sends data to the sidelines for every impact sustained during field of play.  Post-game and practice, reports are automated and sent directly to a Coaches and Athletic Trainers e-mail which breaks down the data collected and helps identify new opportunities where performance and safety adjustments can be made.
WHERE WERE GOING:
Since then we have spent years perfecting the automated analytics platform, making our system more efficient to use, and placing a high level of attention to our data output so Coaches and Athletic Trainers get the most out of our system functions and features.
THE CUE SPORT SENSOR:
This year we're releasing a new wearable sensor called the CUE Sport Sensor™. It's a small (the size two quarters), lightweight, soft plastic, head-impact sensor. While the Vector MouthGuard is limited to caged helmet sports such as football, lacrosse, or hockey, the CUE Sport Sensor can be inserted into a helmet or attached to a headband.  This makes the sensor versatile for sports such as soccer, rugby, and also helmeted sports.
BRANDING UPGRADE:
To help emphasize the expanded vision and product line, i1 Biometrics is shifting to enhance its branding with Athlete Intelligence, a name more suggestive of our primary focus of providing smart data for athletes in wide range of sports. You may notice the new name reflected in our marketing, social media and press. With the release of our new website at the beginning of the year we are excited to be moving forward and upward; https://www.athleteintelligence.com/.
JOIN US:
Please join us by following all of our Social Media handles:
Feel free to contact us directly at info@athleteintelligence.com or 425.372.7811.
For more information about our products please download our Athlete Intelligence Info Booklet.