Middletown High School Renews Their Partnership with Athlete Intelligence's Head-Impact Monitoring and Performance Tracking Solution Through 2021
KIRKLAND, Washington – Athlete Intelligence, a leading head-impact monitoring and performance tracking solution, is excited to announce its renewal agreement with Middletown High School which extends their partnership through the 2021 Football season
"As the sole AT for a large high school football program, having extra "eyes on the field" is an integral piece to providing the highest level of safety for my athletes." Says Craig Olejniczak, Head Athletic Trainer of Middletown High School.  "The Vector MouthGuard  provides me with live game-time status on each player and with the upgraded dashboard platform, the post game data analysis is eye opening for coaches who can recognize the players who need to focus on better tackling techniques." Craig continued.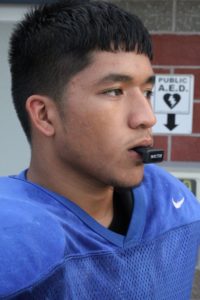 The Athlete Intelligence Platform and VECTOR™ MouthGuard will be used as a Coaching and Athletic Training tool to provide real-time head-impact data to the sidelines during games and practices.  Following each game and practice, automated reports will be sent to the staff breaking down team, position, and athlete head-impact exposure data.  This data will allow team staff to better understand positional and individual head-impact exposure levels due to crown of head impacts, or those with higher impact counts compared to their peers.
"To see their continued focus on student-athlete safety, it positions them as a leader in high school sports.  Said Andrew Golden, Director of Marketing from Athlete Intelligence.  "Middletown has been a partner of ours since 2015 when we first commercialized and we are excited to continue to provide our evolving analytics platform for the next 3-years."  Andrew adds.
About Athlete Intelligence
Athlete Intelligence is a leading sports technology and data analytics company located in Kirkland, Washington.  Through a variety of wearable sensor options, Athlete Intelligence provides teams the ability to track the location, count, and severity of each impact allowing teams to use the data to improve athlete technique, manage head-impact exposure, and reduce the risk of injury.  For more information on Athlete Intelligence, please visit:  www.AthleteIntelligence.com
About Middletown High School
Middletown High School serves 9th through 12th grade students in the Enlarged City School District of Middletown, which covers that city as well as adjacent portions of the towns of Wallkill and Wawayanda in Orange County, New York, United States
__
Want to learn more about Athlete Intelligence?  View our Info Booklet to see how we take the data from the field and turn it into Coachable Moments.