Mount Si High School Lacrosse Innovates with Athlete Intelligence Head Impact Monitoring
Athlete Intelligence, a leading Head-Impact Monitoring and Performance Tracking solution is excited to enter into it's second year agreement with the Mount Si High School Lacrosse Program.  This partnership came to fruition through teaming up with the Mount Si Football Team to help subsidize the cost of the platform, along with the Munich RE Insurance Subsidy that offers a $15.00 discount to the school per athlete.
"Mount Si Lacrosse is lucky to have such a close relationship with the football team, allowing us to team up and help focus on innovative ways we can further protect our student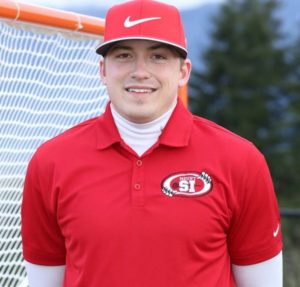 athlete's," says Chris Ledgerwood, Head Coach of the Mount Si Lacrosse Team.  "The CUE Sport Sensor gives us information we wouldn't otherwise be able to obtain and apply it to our coaching technique."  Coach Ledgerwood adds.  "Working with Athlete Intelligence has allowed us to closely monitor head-impact exposure and empowered us to make our team safer."
Once Football is over in the Fall, the sensors are then moved to the Lacrosse Team where they have full access to the Athlete Intelligence platform for the Spring season.  Then, following Lacrosse season, the system is passed back to the Football Team for use again in the Fall.
"It's great to see how High Schools like Mount Si who care so much about their student-athletes take an initiative to innovate," says Andrew Golden Director of Business Operations for Athlete Intelligence.  "We developed our products and platform to support contact and collision sports where head-impacts can tell us a lot about athlete technique and exposure.  To see Mount Si take full advantage of our system and how they've been able to reduce the risk of injuries is what we hope to see from every high school who thinks about implementing head-impact monitoring."
About Athlete Intelligence
Athlete Intelligence is a leading sports technology and data analytics company located in Kirkland, Washington.  Through a variety of wearable sensor options, Athlete Intelligence provides teams the ability to track the location, count, and severity of each impact allowing teams to use the data to improve athlete technique, manage head-impact exposure, and reduce the risk of injury.  For more information on Athlete Intelligence, please visit:  www.AthleteIntelligence.com
About Mount Si Lacrosse
The High School Program is part of the Washington High School Boys Lacrosse Association (WHSBLA) and competes in the KingCo 4A Conference.  The Wildcats have made the playoffs two out of the last three seasons (2017/2019).
–
Want to learn more about Athlete Intelligence?  View our Info Booklet to see how we become an added resource for teams to identify technique and safety opportunities through data driven decisions.