The 7 Greatest Football Movies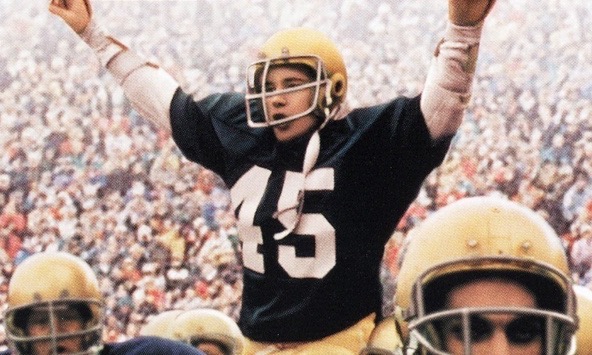 Whether we're in the midst of a Football season or waiting for the next to begin, here are some of our favorite Football movies to re-watch anytime.
Football season may be over until the fall, but that doesn't mean you can't enjoy some films about the sport until then. Here's seven great football movies to tide you over until September.
 7. Jerry Maguire
This 1996 romantic comedy/drama/sports film has a little something for everybody. Tom Cruise plays a sports agent who wants to put more meaning into his work, trying to help his only client, played by Cuba Gooding Jr., to football stardom. A movie filed with inspiration, laughs, and heart.
6. We Are Marshall
In 1970, Marshall University and the small town of Huntington, W.Va., reel when a plane crash claims the lives of 75 of the school's football players, staff members and boosters. New coach Jack Lengyel (Matthew McConaughey) arrives on the scene in March 1971, determined to rebuild Marshall's Thundering Herd and heal a grieving community in the process.
5. Any Given Sunday
Director Oliver Stone tackles this 1999 sports drama about the struggling fictional football team the Miami Sharks. Acclaimed actor Al Pacino turns in one of his greatest performances as coach Tony D'Amato, who attempts the impossible: leading his team to victory. The top-notch acting and impressive cast makes this one football movie not to miss.
4. Rudy
This 1993 biographical movie tells the story of Daniel "Rudy" Ruettiger, who attempts to make his dream of playing football at the University of Notre Dame come true despite a number of challenges. This inspirational tale is a staple of "top football movie" lists and there's no wonder why—Sean Astin's touching performance will make believers of us all.
3. Remember The Titans
The true story of African-American coach Herman Boone (portrayed by Denzel Washington), this 2000 movie is a stirring story about the attempt to integrate a high school football team in the early Seventies. With equal parts drama and inspiration, this film is also a tearjerker, so get your Kleenex ready.
2. The Blind Side
A movie the whole family can enjoy, it tells the real-life story of Michael Oher, who went from an impovirished life to getting drafted by the Baltimore Ravens. Sandra Bullock won an Academy Award for her portrayal of Oher's adopted mom Leigh Anne Tuohy in the 2009 film, a woman whose support helped the young man achieve his dream.
1. Friday Night Lights
This 2004 football film, directed by Peter Berg, focuses on the Texas high-school team the Permian Panthers as they make a play for the state championship. Winning a Best Sports Movie ESPY Award, it excels at both as a nail-biting football drama and a rousing tale of teamwork, determination, and sportsmanship.
And that's our list! Comment below with any movie you think we missed, or should re-watch.
Want to learn how Athlete Intelligence is helping make the game of football safer?

Then download the Athlete Intelligence Information Booklet to look how we help Coaches and Athletic Trainers make data driven decisions through Head-Impact Data.  Learn more now: