The University of South Carolina Football Program Extends Agreement with Athlete Intelligence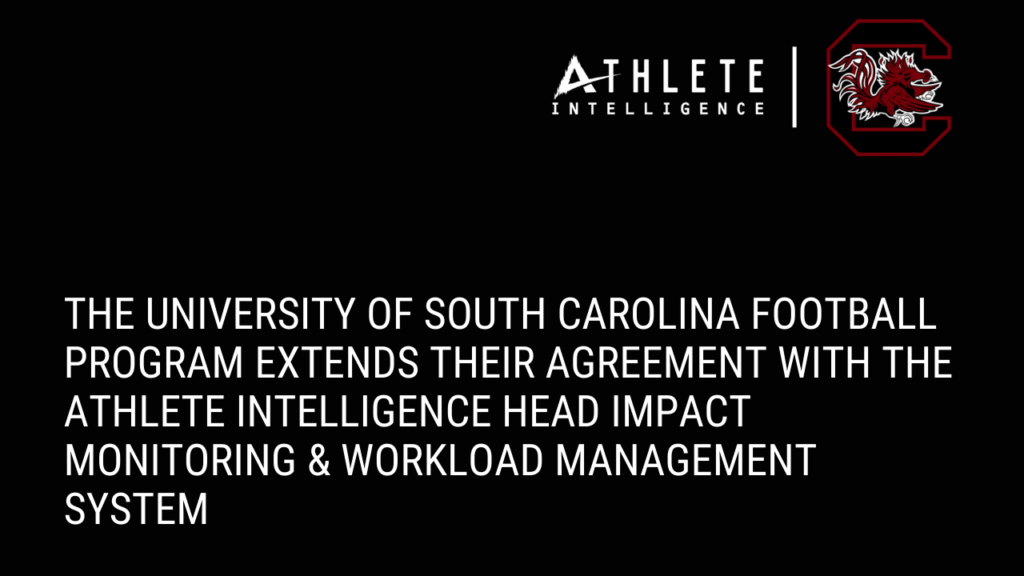 The Gamecock Football Team Uses the CUE+ Helmet Sensor for Head Impact Workload Management
The University of South Carolina Football program (SC) has extended its partnership with Athlete Intelligence into the 2022 season.  After trialing the CUE Sport Helmet sensor in the spring of 2021, the Athletic Training staff decided to upgrade to the CUE+ helmet sensor and extend their agreement.  The decision was made so the Athletic Training staff could closely monitor which periods and practice drills accounted for the highest number of head impacts.
"By utilizing new technology we have been able to bring athletes back onto the field faster and safer than ever before," said Kelsey Hounshell, Assistant Football Athletic Trainer for the University of South Carolina.  When asked about the main benefits of the Athlete Intelligence system, Hounshell said, "the analytics dashboard and impact time stamps help us to compare the workloads during practice."  "Without this platform, we wouldn't have any idea of which periods or drills account for the highest or hardest head impacts,"  Hounshell added.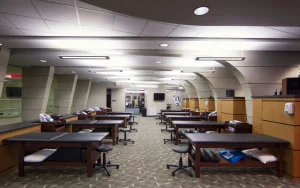 The University of South Carolina Football program is no stranger to innovative technology.  The team also uses the Catapult system and Polar systems to review overall yardage, return to play speeds and loads, and heart rate during practice sessions.  Adding the CUE+ helmet sensor provides the South Carolina Football team with critical head contact data insights into a player's technique.
The CUE+ helmet sensor is the newest head impact monitoring product released by Athlete Intelligence.  Combining complete system automation with real-time head impact data collection, football teams select the CUE+ system because it has proven to be the easiest head impact monitoring system to use.  The CUE+ helmet sensor tracks the total head impact workload for each session, along with where each head impact takes place on the head and how hard it was.  When used in live mode, Football staff members will be notified instantly when a head impact occurs at or above a pre-set G-Force threshold.  Following a session, Staff Members can review the Athlete Intelligence Web Dashboard or receive automated e-mail reports that provide a summarized overview of impact workloads by each player.  Impact time-stamps are also recorded so teams can pair the reports with their practice or game film.
"The South Carolina Football Athletic Training staff has built an extremely innovative environment that exceeds the norm when it comes to player performance and safety," says Andrew Golden, Director of Business Operations for Athlete Intelligence. "It is rewarding to hear how the Athlete Intelligence Head Impact analytics platform has been a resourceful tool when monitoring and managing player impact workloads and keeping players healthy," Golden adds.
Athlete Intelligence has quickly become the head impact monitoring system of choice by youth, high school, and college level football programs.  Teams who use the Athlete Intelligence system gain the most value by identifying players with high crown of head impact counts and high head impact workloads.  When these trends are identified, Coaches can work closely with those players to improve their technique to the proper form of removing the head from contact.  Teams that use the Athlete Intelligence head impact monitoring system have reduced impact workloads by more than 29%.
About Athlete Intelligence
Athlete Intelligence is a head impact monitoring and sensor technology subscription service for sports teams.  We combine wearable technology with simplified data analytics to provide summarized reports that highlight player performance and safety improvement opportunities.  Athlete Intelligence offers head impact monitoring and sensor technology services to youth, high school, and college-level programs. For more information on Athlete Intelligence, please visit:  www.AthleteIntelligence.com