Unveiling the Future of Youth Football Safety with Athlete Intelligence Head Impact Monitoring
Protecting Our Youngest Participants with Head Impact Tracking Systems
In the world of youth football, safety is paramount. The thrill of the game is undeniable, but protecting the young athletes who take the field is a responsibility that cannot be taken lightly. Today, we have the privilege of diving into a revolutionary game-changer: the Athlete Intelligence Head Impact Monitoring system.
As we explore this cutting-edge technology, we'll hear from John Handel, the League Medical/Safety Coordinator of Avon Braves Youth Football in Avon, NY. He shares his journey with Athlete Intelligence, why he embraced it for his teams and the transformative impact it has had on player safety and development.
A Game-Changing Introduction
It all began during a routine board meeting when the idea of partnering with Athlete Intelligence was brought to John's attention. The proposal was simple yet groundbreaking: harness data to provide insights into head impacts, improve player safety, and enhance the coaching experience. This concept sparked John's curiosity and ignited a spark of innovation within him.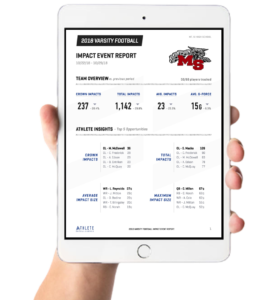 So, what led John Handel and the Avon Braves Youth Football program to consider the Athlete Intelligence Head Impact Monitoring system? It wasn't a tough decision, as John explains, "It was an easy decision that, in order to empower our coaches, parents, and players with the knowledge of how to keep our players safe and using proper mechanics to minimize risk."
Empowering Coaches and Players
One of the most thrilling aspects of Athlete Intelligence's system is the way it empowers coaches. By providing valuable data on head impacts, it offers an unprecedented level of insight. John elaborates, "It was incredible to provide our coaching staff with coaching tackling plans based on what parts of the player's body were making contact."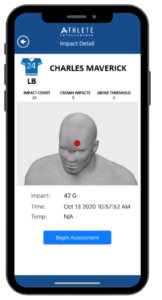 This level of detail enables coaches to understand how players are using their heads during tackles. Even with the keenest eyes on the field, some impacts can be missed, and this is where Athlete Intelligence steps in to fill the gap. With the CUE Sport Sensor devices in place, coaches can monitor every impact, helping players refine their techniques and focus on executing "heads up tackles."
Parental Feedback and Increased Participation
Feedback from parents is often a vital gauge of the success of any program, and in this case, the responses have been overwhelmingly positive. John Handel notes that Athlete Intelligence's data has been instrumental in suspected concussion cases. The system generates reports that include crucial information such as the time of impact, force of impact, immediate assessment, and location on the head. These reports are then shared with medical professionals, allowing for more accurate diagnoses and better-informed treatment.
Moreover, the enhanced safety measures have had a profound impact on participation rates. As parents become increasingly aware of the commitment to player safety within the Avon Braves Youth Football program, more children are encouraged to take up the sport. This can be seen as a testament to the effectiveness of the Athlete Intelligence Head Impact Monitoring system in building trust and confidence among parents.
A Proactive Approach to Head Injury Prevention
In the age of growing awareness about the long-term consequences of head injuries, youth sports programs must be proactive in limiting the number of impacts their athletes experience. John Handel puts it simply: "It is up to us as coaches and staff to be proactive and limit the amount of impacts that our youth are experiencing in order to give them the best chance of success in life."
The Athlete Intelligence Head Impact Monitoring system is revolutionizing the way youth football programs like Avon Braves approach safety and coaching. It empowers coaches, reassures parents, and enhances player safety, all while keeping a watchful eye on the long-term well-being of young athletes. As John Handel's experience shows, the future of youth football safety is here, and it's a game-changer.
About Athlete Intelligence
The Athlete Intelligence system is an innovative way of tracking head impacts, which can help reduce the risk of injury. The system allows for real-time alerts and helps improve athlete performance. The data generated by the system helps identify patterns in head impacts and shows the effectiveness of proper tackling techniques. Reports and analytics provide coaches with valuable information on their athletes, allowing them to make informed decisions and adjust training accordingly.