Athlete Intelligence Advisory Board Member Among Finalists for Muhammad Ali Sports Humanitarian Award

Kansas City Chiefs G Laurent Duvernay-Tardif Named as Finalist for the 2021 ESPN Muhammad Ali Sports Humanitarian Award
Following a Super Bowl LIV championship, Laurent Duvernay-Tardif announced he would be putting his NFL playing career on hold to work the frontlines of the COVID-19 pandemic.
Duvernay-Tardif is currently the only active NFL player with a doctorate of medicine.  His decision to sit the 2020-21 season out, came following his offseason work at a long-term care facility located in Montreal, Quebec.  He joined the facility just three months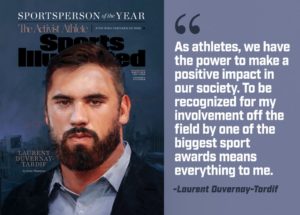 following the Kansas City Chiefs Super Bowl victory.  During his time at the long-term care facility, Duvernay-Tardif also served on the NFLPA's COVID-19 task force.
The Muhammad Ali Humanitarian Award is to celebrate and honor athletes, teams, and sports industry professionals whose continued leadership has created a measured positive impact on their community through sports.
Did you catch our fireside chat with Laurent Duvernay-Tardif?  Watch it Here:  Click Here to View.
Duvernay-Tardif has a long list of growing accolades including being named co-winner of the 2020 Lou Marsh Award and also named as one of ESPN's five 2020 Sportsperson of the Year award.
As an Advisory Board member for Athlete Intelligence, Duvernay-Tardif has played a pivotal role in helping the organization share it's mission towards student-athlete head safety through its wearable head impact monitoring sensors and analytics package.  Duvernay-Tardif has been a member of the Athlete Intelligence Board of Advisors since 2015.  His perspective as an athlete and doctor of medicine brings a unique viewpoint into the world of athlete safety and performance through actionable analytics.  His thought leadership has helped shape the way Athlete Intelligence builds solutions for Coaches, Athletic Trainers, and for student-athletes.
Want to Learn More about Athlete Intelligence?  View our Information Booklet below: