Talkin' Sports Tech with Amsterdam High School Football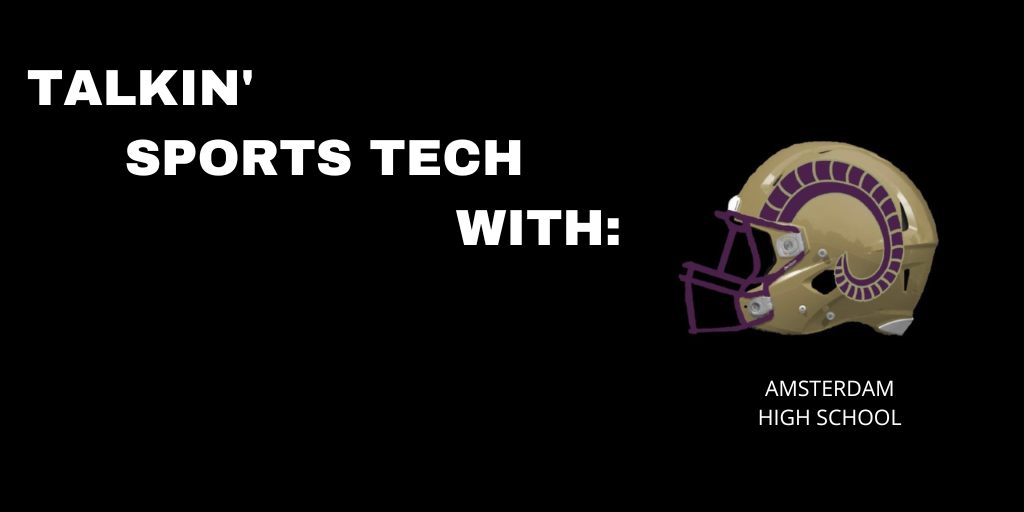 How Amsterdam High School Football Uses Helmet Sensor Technology to Improve Player Performance and Head Safety
Amsterdam High School believes participation in sports provides a wealth of opportunities and experiences that assist students in their education. Those who have played high school sports would probably agree.  Amsterdam High School is home to the Ram Football team which are 11-time Big Ten Champions, 10-time Sectional Champions, and has appeared in the sectional championship game 19-times.  Remaining as a dominant force requires a balance between hard work and keeping players safe.
This year, the Amsterdam Football Team wanted to take their player safety and performance to the next level.  After being selected as the 2022 National Athletic Trainer of the year, the Rams football team was awarded a subscription to the Athlete Intelligence CUE Sport Sensor head impact monitoring and data analytics system.
We caught up with Head Athletic Trainer, Carla Pasquarelli to learn more about how head impact monitoring has become a critical tool for player performance and safety this season.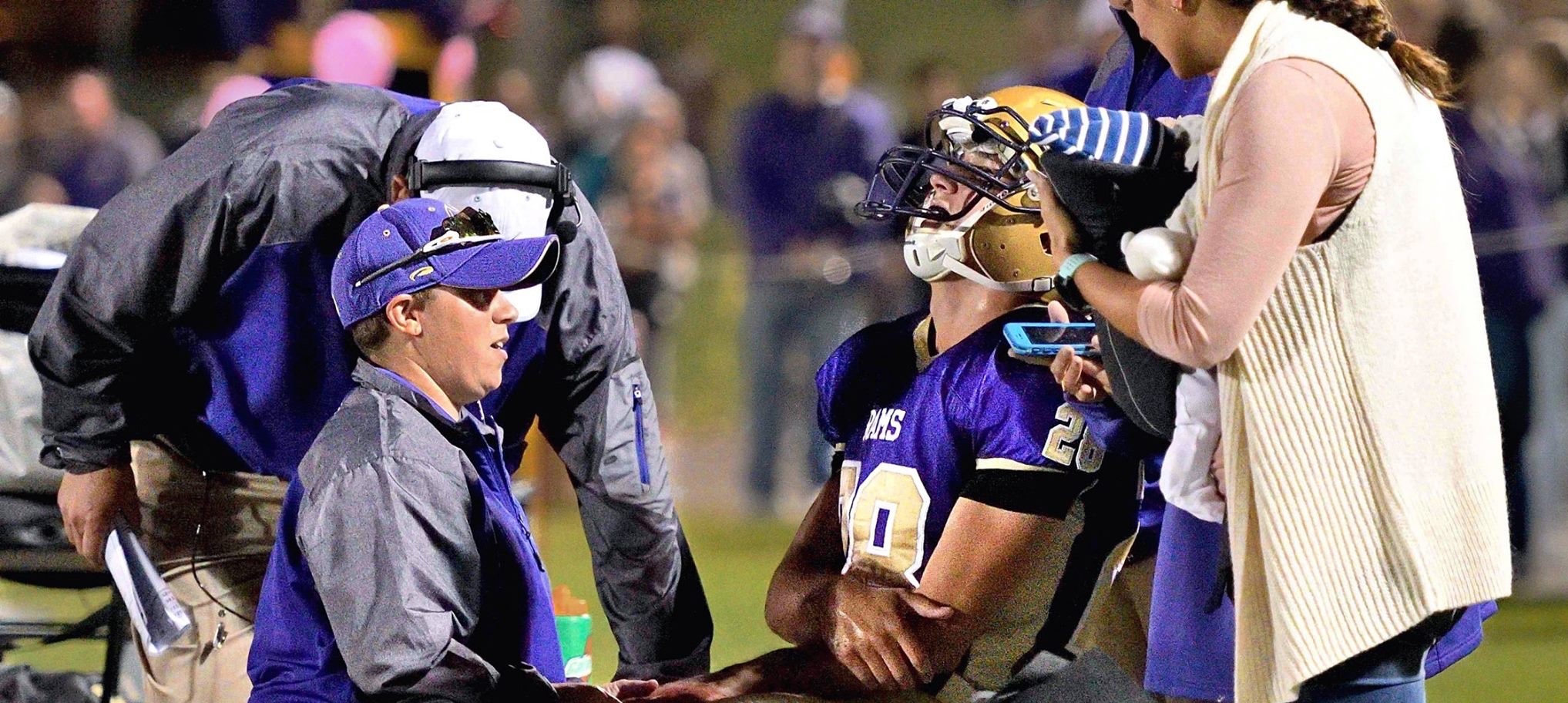 NAME: Carla Pasquarelli
POSITION: Athletic Trainer
NUMBER OF YEARS IN PROFESSION: 14
WHAT MADE YOU WANT TO GET INVOLVED WITH ATHLETICS?
I played many sports growing up. I learned many valuable life lessons from being involved in athletics. I coached softball for many years after graduating from high school up until I became an athletic trainer. I have always wanted to work in the medical field but still be connected to athletics. Being an athletic trainer affords me the ability to be able to do both of those things.
WHAT DO YOU ENJOY MOST ABOUT BEING INVOLVED IN ATHLETICS?
I enjoy watching the athletes succeed both on and off the field. In my line of work, we work very closely with our athletes. We share a lot of ups and downs with our athletes in both athletics and life. It is awesome to watch them overcome adversity and see them succeed. I also enjoy the camaraderie between the athletes and the staff. Especially here at Amsterdam High School, we have such a family environment. All the players and coaches support each other and work to improve our school.
DESCRIBE HOW YOUR PROGRAM HAS TAKEN INNOVATIVE STEPS TO IMPROVE ATHLETE SAFETY AND PERFORMANCE OVER THE YEARS.
In the fall of 2010, we started to implement the NFHS guidelines of the progressive return to play program. We brought in Concussion Legacy Foundation co-founders Chris Nowinski and Dr. Robert Cantu to speak to our players, parents, and coaches on head injury safety and awareness. We have introduced rugby-style tackling techniques into our program to try and reduce the use of the head as a means of tackling. We baseline test our athletes at the beginning of every season so if they do get injured we have a way to measure if they have healed after an injury.
WHAT WAS YOUR INITIAL REACTION AFTER FIRST BEING INTRODUCED TO THE ATHLETE INTELLIGENCE HEAD IMPACT MONITORING SYSTEM?
We were blown away by the type of information and the insight we could learn from the data. One of the things that impressed us the most was how we could use this data to make it educational and incorporate it into our math curriculum.
WHY WAS IT IMPORTANT FOR YOU TO START TRACKING HEAD IMPACTS?
We wanted to learn how many head impacts our players were truly taking. By getting this information we were able to change up our practice routine/techniques for each position to reduce the number of opportunities for impacts to the head.
WHAT HAS BEEN THE MOST VALUABLE INFORMATION YOU'VE BEEN ABLE TO GATHER FROM USING THE ATHLETE INTELLIGENCE SYSTEM? (TRACKING IMPACT WORKLOADS, REAL-TIME ALERTS, TECHNIQUE IMPROVEMENTS?)
The most valuable information we have been able to gather was the number of impacts our players were taking to the crown of the head. It helped us focus on the kids who were consistently hitting with their heads down. From an athletic training standpoint, the most useful information was the severity of the impacts our players were taking and who they corresponded with those students who were diagnosed with concussions.  We were also able to analyze and re-evaluate how we teach our blocking techniques to our linemen who may have seen an increase in side impacts based on certain plays.  Coaches were able to modify our technique and head placement to reduce those impacts and keep our athletes healthy and on the field.
WHAT FEATURES OF THE ATHLETE INTELLIGENCE SYSTEM HAVE BEEN MOST USEFUL? (ANALYTICS, REPORTS, REAL-TIME DATA?)
The daily and weekly reports were the most useful for us. Both myself and our head coach would look over the reports to see what we had to work on in practice and with what individuals we had to focus on adjusting their techniques.
WHAT IS ONE THING YOU GATHERED FROM THE ATHLETE INTELLIGENCE SYSTEM THAT YOU WOULDN'T HAVE BEEN ABLE TO GATHER IF YOU DIDN'T HAVE THE SYSTEM?
The location of the impacts on our players. I was showing one of our coaches our center's impact detail and he was able to tell me which play they ran based on the location of the impacts. The amount of crown impacts our athletes were taking was also eye-opening for us. It really made us take a hard look at how we could change their techniques and make sure they weren't using their heads to tackle with.
ASIDE FROM THE ATHLETE INTELLIGENCE SYSTEM, WHAT OTHER INNOVATIVE TECHNOLOGIES HAVE YOU IMPLEMENTED INTO THE PROGRAM AND HOW HAS THAT HELPED YOU IMPROVE THE SAFETY AND/OR PERFORMANCE OF YOUR ATHLETES?
We have used ImPACT baseline testing for many years. Our coaches upload the game film onto Digital Game Day for the players to go over. This year we were able to purchase an end zone camera through the use of donations, fundraisers, and a grant from our educational foundation. We utilized this camera in both practices and games to get a different view of our players which has helped us correct the player's techniques that we would have otherwise missed without this view.
WHAT IS ONE MESSAGE YOU WOULD LIKE TO TELL OTHER PROGRAMS THAT HAVEN'T BEEN INTRODUCED TO HEAD IMPACT MONITORING OR ARE CONSIDERING IT?
It's not that complicated to use. It was incredibly easy to use; from inserting the sensors into the helmets to uploading and looking at the data it could not have gone any smoother. It is also not time-consuming. This is well worth the cost- you can't put a price on safety.
About Athlete Intelligence
Athlete Intelligence is a head impact monitoring and sensor technology subscription service for sports teams.  We combine wearable technology with simplified data analytics to provide summarized reports that highlight player performance and safety improvement opportunities.  Athlete Intelligence offers head impact monitoring and sensor technology services to youth, high school, and college-level programs. For more information on Athlete Intelligence, please visit:  www.AthleteIntelligence.com