Athlete Intelligence Releases the CUE+ Helmet Sensor for Real-Time Impact Monitoring
Athlete Intelligence Reaches Key Product Milestone by Providing the Industries Most Advanced Real-Time Head Impact Monitoring Sensor
Athlete Intelligence, an industry leader in head impact sensor technology and data analytics officially announced its latest head impact monitoring sensor, the CUE+.  The CUE+ sensor is designed to support both helmeted sports like football, lacrosse, and hockey, and non-helmeted sports like women's soccer and women's lacrosse.  The new sensor is the result of customer feedback who found extreme value in the CUE Sport Sensor but wanted real-time head impact monitoring like the VECTOR MouthGuard offers.
"The CUE+ is the result of building strong relationships with our customers and prospective teams to develop a product that meets their wants and needs as a low-maintenance resource to improve head safety and performance," said Andrew Golden, Director of Business Operations for Athlete Intelligence.  "To be an accepted head impact monitoring system for teams, you need to deliver a system that is affordable and easy to use; the foundation upon which we built the CUE+," Golden added.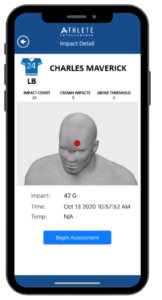 Athlete Intelligence commercialized its first head impact monitoring sensor, the VECTOR MouthGuard in 2015.  To date, the VECTOR MouthGuard is still the sensor of choice by many research universities and institutions, but found challenges in the team environment when asking athletes to pivot from the mouthguard they are comfortable with.  In 2018, Athlete Intelligence released the CUE Sport Sensor which was their first helmet and headband affixed sensor and quickly become a sensor of choice by youth, high school, and college-level programs.  However, since the CUE Sport Sensor used standard Bluetooth technology, it didn't offer the ability to provide true real-time data transmission for alert notifications.  With the CUE+, that gap has been filled.  "Bluetooth technology presents challenges in the speed and range at which data can be transmitted, so when you're looking at the length of a football field, Bluetooth wasn't able to meet the customer expectation for real-time data," says Golden.  "The CUE+ can transmit impacts instantly as they occur and send an alert to sideline team staff members when an impact meets or exceeds a pre-determined threshold," Golden added.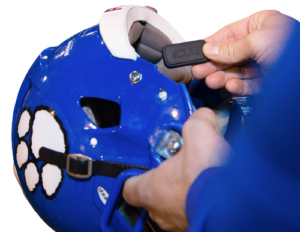 The CUE+ Sensor system uses a small sideline receiver that when plugged into a laptop provides system automation and activation of the sensors.  When used in live mode, impacts at or above a team's pre-set threshold generates a notification that is sent to a mobile phone or smartwatch.  This provides extra eyes and ears on the field for when larger impacts occur and gives staff another tool in the toolbox for a team's concussion protocol.  All session data is stored and accessible in the Athlete Intelligence Dashboard tools where reports can be automated and sent directly to a Coaches and Athletic Trainers' inbox.
Glastonbury High School was the first high school football program to adopt the CUE+ system upon its commercialization.  When asked about the system, Coach Hennessy had this to say, "The biggest benefit is that our kids are safer and what we're trying to do is be smarter about how we coach and trying to be proactive and recognize when a kid is in that danger zone," said Hennessy.  "It's not always that one big hit that somebody is going to get a concussion, It's usually a cumulative thing," Hennessy added.  Click Here to learn more about Glastonbury High School and their decision behind selecting the CUE+ Sensor.
Middletown Highschool, a football program that has been partnering with Athlete Intelligence since 2015 describes the CUE+ as, "a valuable tool for game and practice sessions."  "On game day the Real-time data is the winner.  The analytics and reports play a significant role in re-evaluating the best practice management of injury prevention.  Teams and coaches can see from the data what needs attention, i.e. tackling mechanics or specific changes to one athlete's play in his position," says Craig Olejniczak, MS, ATC, ACI, Head Athletic Trainer at Middletown High School.   (see a full Q&A with Middletown Head AT Here)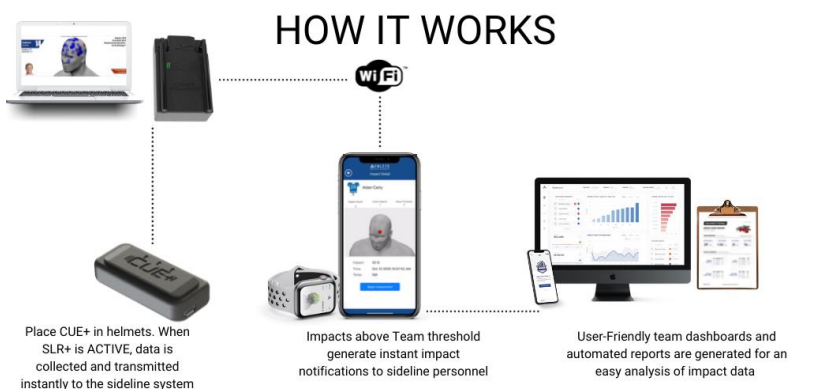 "It's an exciting time for head impact monitoring sensor technology given the support from the National Athletic Trainers' Association (NATA), and their recent position statement update encouraging football programs to explore and implement this technology to identify and correct head-first contact," said Golden.
Athlete Intelligence remains a leader in the head impact monitoring space given the product and pricing options, easy-to-use systems, and by providing actionable and digestible data that help identify Coachable Moments on where technique adjustments can be made to improve performance and head safety.
To learn more about the CUE+ Sport Sensor, download the product brochure below: